Pakistan has truly received a bad reputation in the media over the last few years. Bordering Afghanistan and Iran on the west and India on the west, you can imagine that the country's appeal as a travel destination is doomed by association alone. As there has been some terrorist activity in the country, you might think that getting a visa is impossible or that all of the country's sights have been reduced to rubble. Boy, are you in for a surprise! Pakistan has plenty to offer curious travelers like David and Josephine, who created this list of 10 reasons to visit Pakistan.

David and Josephine's story
Dutch travellers David and Josephine are first class daredevils. They set out to drive from Amsterdam to South East Asia with their second-hand Jeep Defender, following part of the Trans-Siberian Express route. Plans changed (as they do) and they ended up skipping China and instead crossing Europe to Turkey, Iran, Pakistan, India and Sri Lanka. You can read all about their adventure on their excellent blog.
All content and images are courtesy of David and Josephine; as a friend and follower of their trip I simply want to show how beautiful and surprising Pakistan can be.
10 Reasons to visit Pakistan on your next trip to Asia
When people plan a trip to Asia, many of them would look at South East Asia, Japan, China, India. Central India is often overlooked, either because of the bad image countries like Afghanistan, Iran and Iraq have been given by the global media or because of simply lack of information about the region. The latter is especially true about countries such as Turkmenistan, Uzbekistan or Kazachstan. Pakistan falls in the category of "bad reputation", mostly because of its long-lastig war with India and its involvement in USA's "war on terrorism".
At time of writing however, the country is developing rapidly and the Pakistani army is in control of most of the areas where the Taliban used to reign. The army is doing everything in their power to protect foreign tourists, so the downside is that you won't have as much freedom as you might expect. Some areas might be restricters for foreigners, wild-camping can be difficult and it's hard to blend in with the locals. However, there are (much) more than 10 reasons to visit Pakistan so perhaps it could be an interesting addition on your next trip to Asia!
1. You can enjoy the genuine and generous hospitality of the Pakistanis
The Pakistani people are amazing. The hospitality is unparalleled. They love foreigners. We have visited many countries, but there is not one country in the world that is more welcoming than Pakistan, although it may share the first place with Iran. It is amazing to see how generous they treat their visitors.
2. You get a chance to experience Pakistan's amazing nature and wildlife
If you want to see some of the world's highest mountains, go to Pakistan. If you want to see crystal clear blue lakes, go to Pakistan. If you want to do treks with stunning views, go to Pakistan. If you want to see wildlife (for example snow-leopards), go to Pakistan.
3. You will venture off the beaten track and find true adventure
Pakistani people love to travel, but it is hard for them to get a visa abroad. So they have to travel within their own country. Not a real punishment, as there are many things to see and do. But besides the local tourists, there are only very few foreigners. If you want to feel special, like us, go to Pakistan.
4. You will see stunning, ancient Pakistani architecture

You will encounter beautiful architecture in Pakistan. We have seen incredible mosques, tombs and other historical buildings. You will find them in or around most of the bigger cities.
5. You will meet interesting, open-minded locals
Pakistani people are not like you might expect them to be. Getting to know the people, you will see what they really are like. Almost everyone is Muslim, but what does it mean to them? And do you know the difference between Shia, Sunni and Ismaili muslims? When visiting Pakistan, it is hard to escape these conversations. Also, it is okay to talk about these topics in a straightforward (Dutch) way. Most importantly: in general they respect your point of view as well.
6. You will experience unique things that you won't forget quickly
Did you ever get escorted by your own squad of private police officers carrying automatic weapons? Okay.. this argument is a bit politically incorrect, but still.. did you?
7. You will be surprised by the stark contrast between traditional and artificially modern cities
There are many scruffy, disorganized, sometimes dirty and chaotic cities around Pakistan like you might expect from countries in this region. Islamabad, the planned capital, is the antitheses of the above and it is interesting to see this contrast and experience the vibe in this city of the future.
8. You will get to taste the refined Pakistani cuisine
The food in Pakistan is nothing less than tasty. It has some similarities with Indian cuisine, but then of course Pakistanis are not Hindus and thus there is plenty of meat around. If you are a meat lover, you can really rejoice in Pakistan. From beef to chicken to mutton, they have it all. If you are a vegetarian, there is still plenty of dahl, chenna and sabzi curry to enjoy. Also, the Pakistani roti and nan are definitely the tastiest ones we could find!
9. You can spot the colorful Pakistani outfits, buildings and trucks
Pakistani people love colours! Colours everywhere, from the many guys rocking bright pink or multi-coloured shirts, to the colourful Salwar Kameezes outfits with matching headscarves. Even the trucks are colourful, as they are painted by the nation's extremely skilled truck artists. The trucks are completely covered in paint, glow in the dark decals, lights and metal embellishments. They are really a pleasure to look at and are basically works of art on wheels.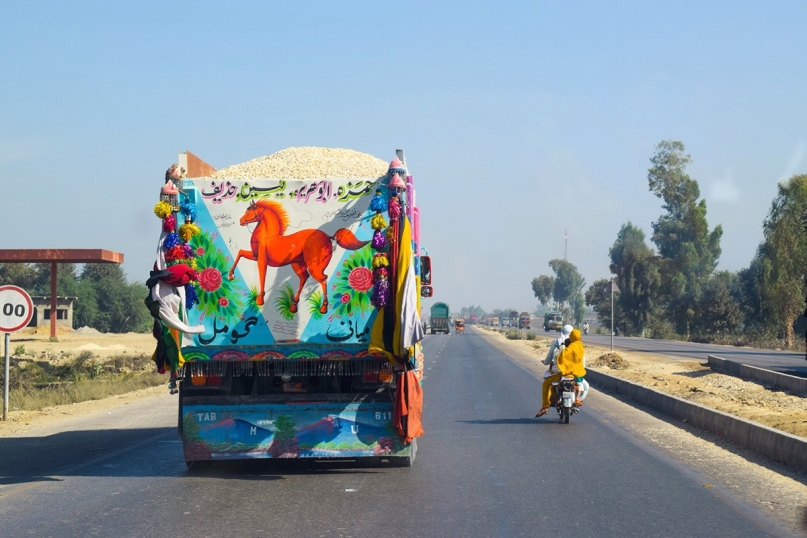 10. There are ample business opportunities for entrepreneurs
Maybe a bit strange to be on this list, but this country has so much potential! It basically has it all: nature, natural resources, fresh water, a lot of cotton, the right climate to grow a variety of fruits and vegetables and a strategic position. Did you know it has one of the deepest seaports in the world? Anyway, it is getting safer to visit the country and its economy is developing. Inevitably, tourism will increase, creating loads of business opportunities. Maybe you feel like starting a business outside your home country?