I bet you have never heard of Tokamachi, a small town in the Niigata prefecture in the middle of Japan. And why would you have? There aren't any famous sights, anything really that would draw tourism to this place. And that's exactly the reason why my girlfriend and I visited the place on our trip to Japan. Sometimes it's nice to just throw a proverbial dart at a country's map and see where you end up!
Purchasing a Japan Rail Pass gives you a lot more flexibility when traveling in Japan; you can cross the country in just a few hours and without paying the hefty fee you would normally do. And so we were off to Tokamachi, which is about 2 hours north of Tokyo. A driver-less train took us on the last half-hour of the journey, with very promising views.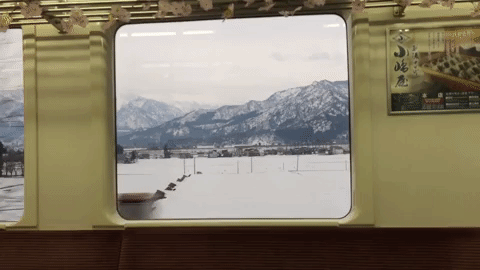 We had booked an Airbnb, which meant we had to get off just before Tokamachi station, at a desolate stop called Misashima. We were the only ones getting off the train, and it looked like we ended up in a sewer. The exit sign took us to a set of long stairs leading up to a structure that more resembles a ski lodge than a train station. A quick look on our phone told us we had some uphill walking to do on the side of a trafficless road.
The Airbnb
A seemingly self-constructed wooden house with a small sign saying "Guild House Tokamachi" emerges on our left side. And so we arrive. We walk in and are greeted by an older Japanese man in a robe with somewhat broken English. He tells us that we can make ourselves comfortable and he shows us the top floor, where our spot is. The interior is done in classic Japanese Zen style, with a wooden floor and straw mats. We would sleep on typically Japanese futon on the floor. Even though it might sound uncomfortable, sleeping on the floor, but the futons are thick enough to sometimes be even more enjoyable than sleeping in a regular mattress!
While everyone raves about the technologically advanced side of  Japan, I think their best invention surely must be the Kotatsu. Is it a table? Is it a bed? It's both! A Kotatsu is a table (a long rectangular table in the case of our Airbnb) with a duvet sandwiched between two table tops. As the Tokamachi nights in early April were still cold, an electric fan heater was set up to blow hot air underneath the duvet. We had dinner together with all of the guild's guests, and the setup certainly made the whole thing very cozy!
My fellow guests at the Tokamachi Guild House were mainly Japenese, some who have been living there for a while and some who were just there on a holiday or visit. They all had different kinds of interesting jobs, most which have escaped me, but there was definitely one very talented comic book writer. With Japanese as the generally spoken language, there were a lot of "lost in translation" moments when missing laughing cues, pop references and inside jokes. Luckily for us, there was an Australian guy as well, who has spent enough time in Japan to learn some of the language. To be honest, it was pretty impressive, and it definitely gave us a tiny bit more insight into what the hell was going on.
The nondescript animal
One day, we headed down the windy road to the city of Tokamachi past the foggy forest and the hidden train station of Misashima. After about 30 minutes we passed a hill on our left-hand side. Nothing out of the ordinary of course, but I did notice something staring at us in the distance. A closer inspection didn't really reassure me; was I dealing with a bear here? Its butt certainly looked like a small bear's, but its thin-ish head didn't really fit the picture. Nevertheless, we walked on faster than an Olympic racewalker. It kept its gaze focused on us, and we weren't really sure if it would decide to charge at some point. With a bit of dumb courage, I managed to take a quick pic of the beast.
As with many folk tales, the truth had been exaggerated with wild assumptions and stories of heroism. As it seemed, I had met a Japanese serow, a cross between a goat and an antelope which eats leaves, shoots, acorns, and certainly not humans.
The town of Tokamachi
I can try and describe the town of Tokamachi sound like a hidden gem and a must-see when visiting in Japan (after all, I am a travel blogger). But to be completely honest, I wouldn't recommend anyone to visit this sleepy little town. I mean, it was definitely interesting to see the life outside of huge cities like Tokyo or Osaka, but you don't have to specifically visit Tokamachi for that reason. Nevertheless, I always like a bit of randomness on a long (6-month) trip, and Tokamachi proved able to provide me with just that.