Many people ask me what my favorite destination was of all my travels. I always tell them the same: Antarctica. "How the hell did you get to Antarctica?!" is the obvious follow-up question. When I explain to them that it wasn't that hard or even as crazy expensive as they might think (don't get me wrong, it is not cheap), they usually add Antarctica to their (usually long list of) bucket list destinations. In this article I will share my updated knowledge on how to get to Antarctica: although it has been a while (I traveled to Antarctica in 2011/2012) I have done my desk research to ensure the information is still up to date. If you find something that is incorrect, by all means let me know by contacting me or commenting below.
In 2013, a month before I started this blog, I did a guest post about Antarctica on my friend Josh's blog Go Travel Your Way. The post got quite popular, and I have received many emails with questions from travelers who would like to do the same trip. Hence I decided to write this article. While in my guest post I focused on getting to Antarctica on a budget, this article will be more in-depth knowledge on my preparations for my trip, the best time to visit Antarctica, the different ways of transport that get you there, how long it takes, how to find work in Antarctica and if you can go to the actual South Pole.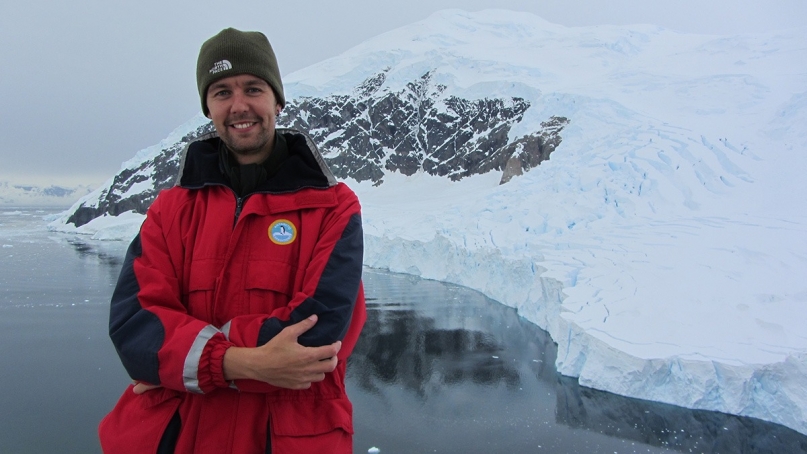 Tourism in Antarctica over the years
The popularity of Antarctica as a tourist destination has dramatically increased since the late 80's, due to a few factors:
Tourism is a growing industry
There has been a trend towards ecotourism and adventure tourism
People have more disposable income
It is much easier now to do your research online and book tickets
Environmental impact
Of course an increasing number of tourists arriving in Antarctica every year has an increased impact on its environment. A few concerns:
Footpath/ice erosion is caused by large numbers of tourists exploring at once
Litter and rubbish is being left on the ground
People are getting too close to the wildlife and many are fleeing their habitats
There is the threat of pollution, such as oil spills, from cruisers transporting people there
Some tourists interfere with Scientists' research by unknowingly bringing in seeds or spores from other areas
Therefore the 28 countries that are member of the Antarctic Treaty have agreed (only as late as 2009) to limit the number of tourists that may visit Antarctica every year. A few highlights of this agreement:
Boats with over 500 passengers are not allowed to dock in Antarctic region
Only one boat at a time is allowed in each dock
The number of passengers descending on the Antarctic land may not be bigger than 100 at a time, and for every 20 passengers there has to be 1 guide
You can read more about the impacts of tourism in Antarctica and the strategies to reduce this impact.
How you can help save Antarctica
As we all know, climate change is a real threat to many ecosystems. The Arctic (both north and south) are perhaps the most notable. In only 30 years, 8% of all the ice in these areas has melted, an area larger than Sweden, Norway and Denmark combined. Why you should care? The melting of the Arctic and Antarctic ice will directly affect you and people close to you, as exteme weather conditions will occur more often, making wet area more wet and dry areas even more dry. And don't forget the increase in likelihood of intense storms and floods.
I interviewed veteran adventurer and committed Arctic-activist Robert Swan about his mission and vision.
When did your passion for the Arctics start?
"I have been visiting the Antarctic in my dreams since I was 11, after seeing the 1948 film "Scott of the Antarctic" starring the great John Mills", Robert starts. In this movie Mills depics Robert Falcon Scott's ill-fated attempt to be the first to reach the South Pole in Antarctica.
He continues: "I was determined to become the first to walk to the North and South Poles. It took 22 years but after 900 miles to the South Pole and 700 miles to the North Pole, my team and I had done it."
After this amazing achievement he vowed to help protect this precious natural scenery and habitat of extraordinary wildlife. The mission was given to him by famous filmmaker, explorer and researcher Jacques Cousteau during their meeting in 1991 ("great guy!", Robert adds).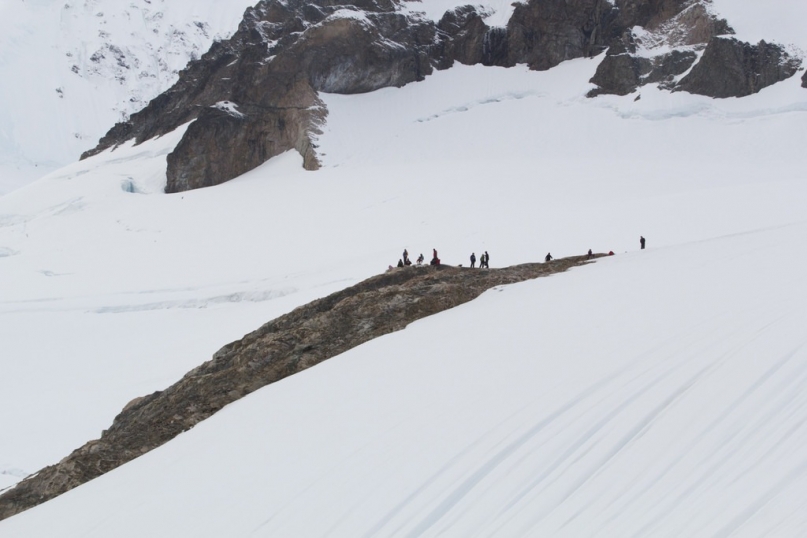 Your cause is called "2041". Why is this such and important year?
"In the year 2041 the International Treaty that preserves Antarctica as a natural reserve for science and peace can be altered or changed or even done away with. My mission is to influence enough (young) leaders by that time and make them aware of the poignant situation. Over the last 14 years I've taken 3000 young leaders from 74 nations to visit the Antarctic themselves."
Should tourism be allowed in Antarctica?
Visiting Antarctica can be hard and very expensive, but I do believe that if one goes with a responsible tour operator, we choose to work with the most excellent Quark Expeditions, it is ok to visit. As long as it inspires you to become an ambassador for preserving the last great wilderness, of course.
How can I join the cause?
Every year Robert and his team organizes a 11-day expedition to Antarctica where, apart from embarking on an unforgettable journey trough the Antarctic peninsula, you will learn about climate change, sustainability and what we can do to protect the last great wilderness on earth from Robert Swan himself. Anybody can apply, but youngsters under 18 will need to bring a parent or guardian.
Learn about the 2017 itinerary and costs involved with this expedition. You can apply for the March 2017 expedition through the 2041 foundation's website.
Below you can see a short (18 minutes) film on last year's expedition.
Can you visit Antarctica?
The short answer: Yes you can! Before I embarked on my trip in 2011, traveling to Antarctica sounded like a mission impossible that was only reserved for the rich and famous, or scientific researchers and explorers. I learned that this is actually true for 99% of the Antarctican continent, but that it is very much possible to set foot on the outer-worldly landscapes of this continent in the Antarctican peninsula, roughly underneath the southern tip of Argentina. Even without an imminent death by frost. Furthermore, it's even possible to travel to Antarctica without a lifetime of saving, as long as you stick within the seasons and book your trip last-minute.
It good to keep to the visitor guidelines for visiting Antarctica, as adopted in the 2011 Treaty. Your guides will tell you this over and over again and will make sure that you respect them, but its good to have a quick glance over them before you plan your trip:
Don't litter on or outside of the boat
No smoking while on land
If you have to use the bathroom while you're on the land, you will be transported back to the boat
Don't feed or touch wildlife, simply observe from a distance
Of course the travel agents and boat personnel have plenty of rules themselves they have to obey in order to operate their tours.
Best time to visit Antarctica
For tourists, it is only possible to visit the continent between November and March. The low temperatures and fast-changing weather conditions (in particular the movements of sea ice) make it a dangerous endeavor in the rest of the year, and practically all agencies offer only boats from November till March. December and January is considered the prime time for tourism on Antarctica because of the mild temperatures.
What is the weather like in Antarctica?
Antarctica is the coldest, windiest and driest continent on earth. During the austral summer, the temperatures can rise to about 50°F (about 10ºC) and there will be 24 hour daylight. That on itself is a very odd experience, as you have to almost force your body to go to sleep with the lack of a natural transition between day and night. On my trip it helped that there were shutters for the (small) window in my cabin, which filled the room with instant darkness.
I was very surprised to find that it actually isn't bone-chilling cold all year long. Then again, I had never really bothered to look up the weather in Antarctic peninsula before I knew I was going to attempt to go there.
Make no illusions here however. Antarctica is a vast continent, and different places have different climates. On the east side (when looking at a flat map) for instance, at the McMurdo scientific station, the temperatures range from –26ºC (−14.8 °F) in August to −3 °C (26.6 °F) in January. On the South Pole, the highest temperature ever recorded was −12.3 °C (9.9 °F) in 2011.
Antarctican weather can be vicious and highly irregular, as I noticed on one of the expeditions on land. We got transported to the shore with a temperature of +4ºC (39°F), but after about 10 minutes of roaming around a sudden snowstorm made the visibility very limited with a temperature drop to -10ºC (14°F). You can imagine that the crew called us back to the boat straight away; the last thing they want is to lose sight of (one of) their passengers.
The Rothera weather station is located in about the middle of the peninsula, so it gives you a good idea of the temperatures you can expect.
How to prepare for your trip
When I was first researching my trip, I got both excited and confused. Clearly I needed layers and layers of (fake) fur to survive in the continent's harsh conditions? Where can I buy this, and how expensive would it be? Would I need any other gear? Until pretty much the day of departure, I didn't really have a clear idea of what to expect. I was wandering around in Ushuaia and decided to buy a warm North Face beenie
, which was a good idea. As is seemed, all other clothing was complimentary on my trip!
(minimalist) Packing list
I visited Antarctica at the end of a 8 month long journey starting in Alaska. I never really properly prepared for the last bit of the trip, since I didn't know if I would even make it that far at all! Luckily I did, and even with my minimal set of clothing and other gear I was able to have an amazing time. Here is what I brought with me:
Clothing
5 pairs of underwear
5 pairs of socks
1 pair of jeans
3 cotton shirts
1 sweater
1 double-lined Star Wars themed jacket
3 t-shirts
Nothing out of the ordinary, right? I only had a 65L backpack, so this is all I could bring. If I would have done it now, I would have brought my Heat Holders Thermal Socks
and Heat Holders Gloves
, which I absolutely love. I also bought some quick-dry travel shirts, but mostly they are meant for getting rid of heat, and in this case you want to keep the heat in.
What really made the difference however is that the travel agency I booked with provided the 'real' Antarctica-ready clothes:
a thick water and windproof multi-lined jacket
water and windproof rain pants
rubber snow boots
waterproof gloves
As I traveled in the Antarctican summer and temperatures were -10ºC (14ºF) at worse, wearing the full outfit was even pretty hot!
Food
Another thing I didn't have to worry about: all the meals were included in the price of the tour. I am talking breakfast buffet, lunch, afternoon tea, three course dinner. I don't have any pictures of the food (I guess it wasn't such a big deal back in 2011), but trust me, it was delicious! The only thing you would have to stick to is the schedule: breakfast at 07:00, lunch at 12:00 and dinner at 19:00. Other than that, we weren't on land long enough to get hungry or thirsty.
Other gear
Other than the clothes above, I really didn't need much else. Of course a good photo / film camera with extra batteries and SD cards is no luxury, as you will be able to take world-class pictures here. I loved using my tripod as well, as the ship's deck is steady enough for it and you have plenty of time to get some good shots on land. The live vests (right on the picture) were complimentary. You really don't need much on the boat; if anything it feels like a floating 4-star hotel. Of course you will be cut off from the world for the length of your trip; I'm afraid there is no wifi on the boat or anywhere else (although I'm sure that might change in the future). If you want total (unnecessary) luxury: I did saw one of the guys on the boat use a satellite phone.
Guide books
Although I did all my research online, in hindsight I would recommend doing some guide reading beforehand. For itineraries, high-res images, some background information about the places you will visit and city maps (handy if you get lost in Ushuaia), check out Lonely Planet's guide on Antarctica. There are some good guide books out there for spotting wildlife as well. Check out Tony Soper's "Antarctica, a guide to the wildlife", Peter Carey and Craig Franklin's "Antarctica cruising guide" and the Kindle version of Marilyn J. Landis Flanigan's "An Adventurer's Guide to Antarctica and the Subantarctic Islands".
Another tip is Wandering Trader's article on Antarctica. I used this article myself to learn more about traveling to Antarctica on the cheap.
My last tip would be a bit of semi-self-promotion. A while after my trip, I wrote an article on my friend Josh's blog about getting to Antarctica on a budget. It has a nice story and some good tips, so check it out!
Transport to Antarctica
There are the luxury all-inclusive cruise ships, which give you a hint of the continent but certainly not the up-and-close experience. If you like swimming pools, world class food, yoga classes and a gym with a view, this could be a good option.
Another option is a chartered "explorer" boat, which is smaller and therefore able (and allowed) to harbor at certain bays and pass more narrow channels. Rubber dinghies take you to land as well, where you will have close (but don't come too close) encounters with the wildlife. This is the option I ended up booking, and I'm very glad I made that decision.
Part of the trip I booked included a flight, which was awesome. Oh yes you've read that right, there are flights to Antarctica! You won't even have to sit in a shitty 2 propeller-type plane either; the planes are big and comfortable, just like any medium-distance flight. Did I tell you that you land on gravel? Read on below.
Antarctica cruise
Smaller "explorer type" boats
Flights to Antarctica
Yes, it is possible to visit Antarctica by plane. Instead of passing the infamous Drake passage between Ushuaia and King George island (basically between Argentina and Antarctica), you also have the option to fly over it and land on an improvised gravel-paved (!!) airstrip in a jumbo jet. I have never clapped harder when the pilot landed the huge plane like it was a routine flight to Heathrow. I combined a flight from Puntas Arenas (Chile) to King George Island (on the Antarctican peninsula) with a 8-day boat trip, which would take me all the way back to Ushuaia (Argentina). Read more about the different routes.
Flights over Antarctica
The other option here is to fly over Antarctica, never actually landing there. The Australian flight operator called Antarctica Flights charters a Qantas 747 jumbo jet and flies over the continent. You would have to be in Australia for this however, as they only fly from the airports of Sydney, Melbourne and Perth. They have a cool New-Years-Eve package as well, including champagne!
Read more on AntarcticaFlights.com.au
Hitchhiking to Antarctica
This is a bit of an urban myth I'm afraid, but I hope someone can prove me wrong. I remember seeing a video update on Youtube of a blogger who has managed to hitchhike to Antarctica. Unfortunately I can't remember his name, but I remember him saying that he simply went to the shore looking for a captain. This must have been ages ago, as at the time that I was there (2011) there was a high steel fence around the whole port with 24 hour security. You can't simply walk to the shore; you need official permission (or a ticket) to do so. Trust me, I tried.
My mission was even more daring: to hitchhike to the South Pole. This would mean freeloading my way to one of the scientific bases, which have very limited resources. It was hard to find anything on the subject, so I asked around on the Antarctica themed forum on the Couchsurfing website.
A girl known as "Sandwichgirl", who has been working at the McMurdo science research center, told me "people who are not working at McMurdo are generally not allowed there". I like the word generally, but I guess in this case she means that only in emergency situations people could be transported there. That's how far I got on the topic of hitchhiking. Most of the advice pointed me towards working on Antarctica, but I will cover this topic in a later update on this article.
How to get to Antarctica
There are more ways to get to Antarctica than you can probably imagine. At least, that was certainly the case for me. The most common route starts in Ushuaia (Argentina), where you will take a boat to visit the Antarctic peninsula.  Usually it is also possible to combine this trip with a visit to the Falkland (Islas Malvinas) or South Georgian islands, and there is the option to go as far as passing the Antarctic circle.
A variation on this route, the one I did, goes from Ushuaia to Puntas Arenas (Chile) by bus, and then by plane from its tiny airport to a gravel patch on the King George island; one of the northern island of the Antarctic peninsula.
Another, far less common route, starts in Invercargill/Bluff (New Zealand) and takes you in a loop through the Ross sea, McMurdo scientific station and back. In a variation on this route you end in Hobart, Tasmania (Australia). Scientists tend to fly this route, although I have not heard of any civillian charters.
The last know route is entirely by plane, starting in either Sydney, Melbourne or Perth and flying over the Antarctic continent, without landing.
Ushuaia (Argentina) to Antarctica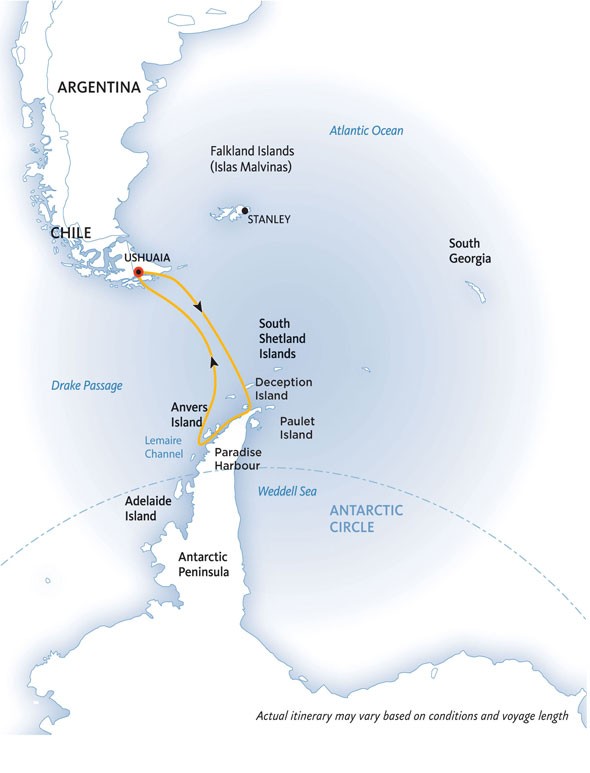 This is the most common route for a reason:
There are cheap flights from Buenos Aires to Ushuaia
The boat trip from Ushuaia to the peninsula (through the Drake passage) only takes 2 days
The weather, compared to the rest of the continent, is relatively calm on the peninsula.
When I arrived in Ushuaia, I went looking for a last minute deal and eventually found one. It was a 8-day trip around New Year's Eve which started in Ushuaia, included a bus journey to Puntas Arenas in Chile, from where I flew to the Russian base on the Sub-Antarctican King George island. Then by boat I visited Paulet Island, Brown Bluff, Deception Island (Whalers Bay), Cuverville Island, Neko Harbour, Lemaire Channel, Yalour Islands, Jougla Point & Goudier Island (Port Lockroy), Neumayer Channel and back to Ushuaia.
Invercargill (New Zealand) to Antarctica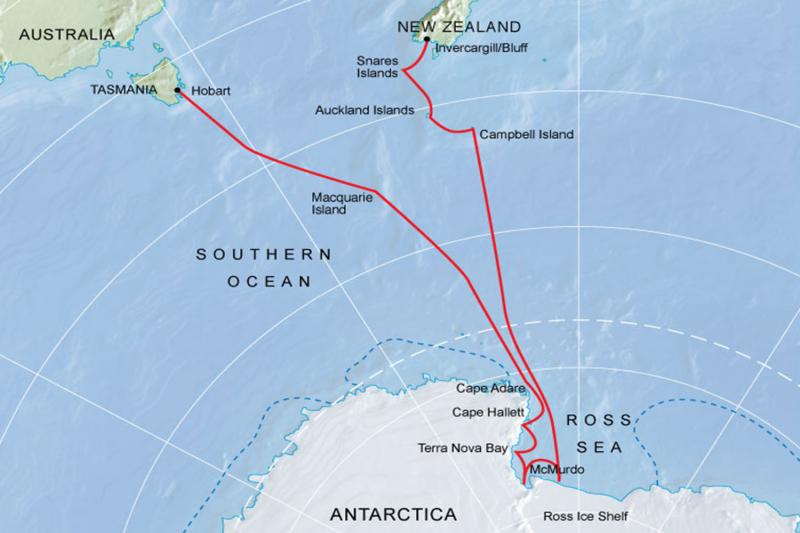 A route that is quite popular for scientists heading to the largest scientific station on Antarctica, McMurdo Station, which is capable of supporting up to 1.258 residents. As a tourist however you can still visit this part of Antarctica, but it's going to cost ya. You can even get a glimpse of the scientific station itself! A trip on this side of the continent is different from the more common Antarctican peninsula route:
As said before, a trip on this route is very expensive. While the Argentina – Antarctica route will typically cost about USD 5.000 – USD 10.000, for this route you should think more in the direction of USD 20.000.
The trips are usually booked far in advance. As the supply is low and the demand is high, you will have to plan your trip up to a year in advance to be able to book it.
The weather conditions are more harsh here, which could cause alterations in your initial itinerary.
You feel more isolated on this trip than "usual" for Antarctica, as the trips are usually longer (average of 30 days instead of 8 days for the peninsula cruises).
Ushuaia (Argentina) to Bluff (New Zealand) via Antarctica
This uncommon, but very exciting route can be done by boat in just over 30 days. You will depart from Ushuaia and follow the more common Antarctic peninsula route. But, instead of doing a loop, you will continue on following the coastline going west, through the Amundsen sea (chance to see Emperor pengiuns!), Ross sea, Cape Evans, Drygalski Ice Tongue and heading to Bluff (New Zealand) via Campbell Island.
See which tour operators offer this trip.
Cape town (South Africa) to Antarctica
This is where you enter the domain of luxury. Yes, it is possible to fly from Cape Town (South Africa) to the geographical South Pole, but it comes hefty price tag. The only agency (to my knowledge) that organizes trips on this route is White Desert. They have an excellent website even worth checking out if you're not planning to book.
How long does it take to get to Antarctica?
Of course, this depends on the route you decide to take.
Ushuaia to Antarctica
Crossing the Drake passage by boat takes 2 days
Trips usually take around 10 days
There is the option to take a bus from Ushuaia to Puntas Arenas (Chile), spend a night there and fly to Antarctica on an early flight. This flight takes 2.5 hours.
My itinerary included the flight mentioned in the previous point, and a boat ride back to Ushuaia via de Drake passage.
New Zealand to Antarctica
Crossing the South Pacific Ocean will take you 12 days in total, so 6 days either way. This is calculated even without visiting the Sub-Antarctican Island such as the Campbell Island, Macquarie Island and Auckland Island which are often on the itinerary.
Because of the previous point, boat trips usually take around 30 days.
Tickets to Antarctica
Finding out how you can get to Antarctica can be quite mesmerizing. I've been there; I've ran into a lot of outdated information, monstrous blocks of unreadable text and 1995-style agency webpages. Tourism in Antarctica still has a long way to come. I guess it can be fairly easy to book if you have the money: you call a tour operator, pay the full price and everything will be arranged for you. For a budget traveler like myself it's a lot harder, as I won't give in until I'm absolutely sure I have found the lowest price. Luckily there is a way to get last minute Antarctica deals, which I will describe later on in this chapter.
Book ahead with a tour operator
If you only have a limited amount of time, say 2 weeks, and money doesn't play a (big) role when it comes to your holidays, this would be the most convenient option. You can call or e-mail a tour operator, and they provide your with different options and their availability. There are plenty of tour operators around, just do a quick Google search on "antarctica cruises". A few well known ones are Intrepid Travel, National Geographic, G Adventures and AdventureSmith Explorations.
Antarctica specialists
There are a few tour operators specialized in expeditions to Antarctica (and often also the Arctic), which could provide you with a lot more in-depth information about the continent and the practicalities of getting there.
Last minute Antarctica deals
For budget travellers, this is a great option if you're interested in doing the most common route, from Ushuaia to Antarctica. When your travel itinerary allows for a bit of risk-taking, you would be able to find a trip at 75% up to 50% off the regular price. Many of these agent will only publish these deals about 10 days before the departure date, which usually means you will already have to be in Ushuaia. This harbour town isn't really worth staying at for too long, so I would recommend heading out to El Calafate and/or El Chalten and do some world-class hiking in the Fitzroy mountains. Meanwhile you can call or mail the agents below from there to see if there are any new deals coming up.
Important to note: You will need to transfer a large sum of money to the agent, or pay by credit card at their office.  Make sure that your bank knows that you will do so beforehand, otherwise they might give you a call. Also, make sure you are actually able to transfer the amount internationally, and what the extra fees might be in doing so.
I borrowed the list of agencies below from fellow blogger Marcello's excellent guide to find cheap Antarctica cruises, which I used myself to travel to Antarctica in 2011. I e-mailed all agencies to check if they were still operational. Marcello keeps the list up to date himself as well, grab it by signing up for his newsletter through the link above.
* The agency I used on my Ushuaia to Antarctica tour.
How much does a trip cost?
There are many different ways to visit Antarctica, all at a different cost. As you can imagine, a boat trip will cost less, and visiting a remote area will be much more costly than staying far from the shore in a cruise ship. That said, the cost of a trip varies from about $4.000 to $75.000.
The most common route, from Ushuaia to Antarctica, is also the cheapest, especially if your itinerary is flexible enough to aim to getting yourself a last-minute deal. I've heard about $3.000 trips, but as I couldn't even find these myself in 2011 it seems a bit of an urban legend (or, of course, prices have risen). I got my own last-minute deal for $4.750, for an 8-day trip departing from Ushuaia. The regular price for a trip like this, meaning when you would book this trip months ahead with a tour operator, would be around $10.000.
The alternative route, from New Zealand (or Australia) to Antarctica, is much more expensive. Since the amount of boats doing this route is limited, prices easily hit $20.000.
Another alternative is flying over Antarctica instead of actually setting foot on it. There are New Year's Eve packages and regular flights, leaving from different cities in Australia (Sydney, Melbourne, Brisbane, Adelaide). The price is considerably lower: for about $1.200 you can book an economy window seat.
There are luxury trips as well. For instance, you can fly from Cape Town to the South Pole. This will cost you € 64.000. Yes, you read that right.
Things to do in Antarctica
If you think all you'll be seeing are mountains of ice for the duration of your Antarctica trip, you're only partially correct. On the day(s) getting to Antarctica (especially by boat), your view will consist of nothing more than the deep blue sea. When you finally reach the sub-Antarctican islands, the fun begins: you start off with small blocks of floating ice, but soon you'll see different shapes, shades and forms of ice.
But wait, there is more! Even though the weather conditions on Antarctica are harsh, there are several different sea animals to spot here.
Apart from the wildlife, there are a few other things to do in Antarctica, which you can read about below. Believe it or not, you can even swim in the Antarctic sea!
Antarctica wildlife
First of all, let's get the most common misconceptions out of the way:
Apart from several penguin species, Antarctica is home to lots of other wildlife species:
On my trip I saw several of these animals, and as it was light (with bright skies) for 24 hours a day it was quite easy to spot them. The most naive and playful of them all must be the penguins. It is tempting to walk right up to them and give them a hug, but it is actually not allowed to approach them within 5 meters (15 feet), especially in breeding season. That said, some curious penguins simply approached me while I sat down at a distance.
Swimming in Antarctica
The guide on the boat I was on called it a "stupid tourist thing to do", but nevertheless it was an awesome experience: swimming in Antarctica. It was just a quick dive, which I captured on video (see below). No, I didn't get hypothermia, although I wouldn't stay in the water for longer than I did. Luckily for me, there was a Russian family on the boat as well, who offered me a gulp of their Vodka; that surely warmed me up quickly 🙂
Visit the British post office
Although there aren't any people permanently living in Antarctica, there are a handful of places (mostly research stations) where people work for a few months per year. Usually this is between November and March, when the weather is more or less bearable for humans. One of these spots is Port Lockroy, formerly a whaling station and renovated into a British post office in 1996. It's turned into a cool (literally) little museum and gift shop, where you can see how the port was used back in the early 1900s. In the gift shop you can buy (and send!) yourself a postcard. Don't expect it to arrive very soon, as a staff of 4 has to process the 70.000 postcards sent on average in the tourist season.
Hiking
If your trip is on a boat with less than 100 people, chances are that you will be able to make regular trips to the "mainland" of Antarctica (about 2 per day, less people means you'll be able to see do more). This happens with small but sturdy rubber boats called dinghies. Once you're on the land, you will either be able to roam free (within sight) or follow the group for a hike to a viewing point. Apart from the fact that I really like hiking, it is quite special to see Antarctica from a higher perspective. You will be able to use your expedition boat as a reference to judge the massiveness of the ice around you (which is otherwise quite hard).
Visit an old whaling station
The whale industry was huge in the early 1900s. Every piece of the animal was used: the blubber, meat, bones and intestines were used to extract oil from, and the bones and meat were turned into fertilizer and fodder. Antarctica also housed a handful of whaling stations, and on my trip I was able to finish one. It looks like it hasn't been touched since the 1900s, and nature has taken over since. All metal was thoroughly rusted, and some parts (the massive gears for instance) were half burried in the gravel).
Collect souvenirs
At the tourist office in Ushuaia, you are able to get a passport stamp with "Ushuaia – Fin del Mundo" on it. Be sure not to close your passport straight away after the stamp has been placed, as it won't be dry yet.
Somewhere on your boat tour you will be asked to provide your passport. Not because you need to go through immigration, but because you will get an awesome Antarctica stamp in your passport! Be sure to keep the passport when it expires and you got yourself an awesome souvenir.
On one of the last days of the boat trip, the captain anounced that the nautical map (the map that was used to plan the route) was up for auction. The proceeds from the auction would be donated to a charity involved in the saving of the sea albatros. I had mixed feelings about the auction itself, it seemed that it had become a battle of egos and family honor; the final amount ended up having three zeroes. Then again, it did go to charity.
To make things "official", you get a certificate as well, stating that you have walked on the Antarctic continent (only if you actually have, of course). Surely that will look nice on your wall!
Share on Pinterest